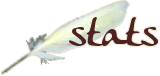 Because of the limitations of the manually updated image newstool I have decided to make a few functions of the integrated statistic wizard of Gallery 1.5.2 available for visitors.
Below you will find short descriptions of the available search options.
The search results include a small thumbnail of the images, the name of the image, name of artist, name of album and date of addition.
You can directly jump to the corresponding images and albums by clicking on the provided links or directly add an image comment.
Here you will find thirty of the newest images, five of them per page.
The thirty most viewed images.
These thirty images have received the most comments to date.
Thirty completely randomly chosen images.